We are thrilled to welcome celebrated designer Terry Atkinson to the Martingale family and to introduce you to her first-ever book with Martingale: Simple, Fun & Quickly Done!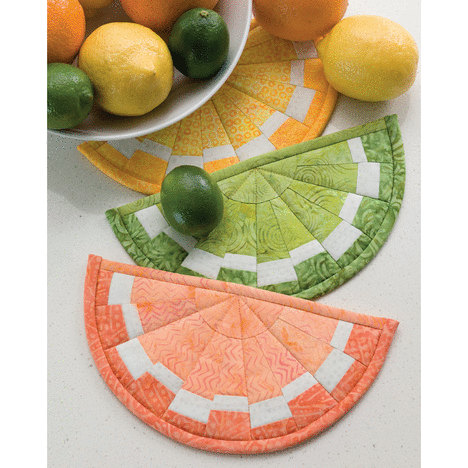 When it comes to sewing, Terry has a philosophy we can all relate to: no one needs a hobby that adds more stress to life! That's the spirit that guides her easy projects for learning to sew. From toppers and pillows to quilts and bags, you'll enjoy every minute of your stitching time with Terry's beginner-friendly instruction and can-do attitude.


Color-Block Table Runner: use just four fat quarters to make this pretty runner. It's reversible too!
Never sewn in a zipper? Terry's known for getting stitchers to try it—and enjoy it! She'll inspire you to master the zipper, the tote, and other dimensional projects. With her easygoing approach to learning, you can't go wrong. The Pillow Talk project below is one of Terry's most-requested patterns because you can easily achieve a professional finish. See the lapped closure? It conceals the zipper teeth so both sides of your pillow stay pretty.

Terry also has a hearty sense of humor; some of her projects will have you giggling because they're so darn cute and clever!


Serve up this sweet little plate of bacon and eggs at the kitchen table!


Whooo would you make this adorable bag for?
When you want to have some sewing fun, make a beeline for Terry's new book: you'll find yourself sewing just for the joy of it. We're excited to have Terry here as a guest writer today to tell you a little more about Simple, Fun & Quickly Done. Take it away, Terry!
BUT FIRST. . .
---
GIVEAWAY ALERT! Terry sent us a colorful assortment of 15 zippers from her line at Atkinson Designs—and we get to give them away to you! Learn how to win this collection, curated by Terry herself, PLUS a copy of Simple, Fun & Quickly Done, at the bottom of this post.

---
I've always enjoyed creating with fabric. In grade school, I took a summer sewing class so that my mom would let me use her machine. Instead of finishing the dress from that class, I spent a wonderful summer creating and sewing doll clothes. As a teenager, I saved until I could buy my own sewing machine. As an adult, my favorite jobs have been related to sewing in one way or another. I've sold sewing machines, managed a fabric store, done alterations at a bridal shop, sold quilts at art and craft fairs, and taught high-school home economics. All this experience has led me to my favorite job: designer.
My passion for creative sewing has endured, along with my need for fast results. I love to come up with shortcut methods for sewing projects. I test each project several ways; then I write the instructions using the easiest method. I've often heard people say, "That was so much easier than I thought it would be!" I love to add special details, but I always make sure they are simple to sew!


These Buttoned Napkin Holders are perfect for any small items you want to corral. They make great thread and scrap catchers too.
You'll find a wide variety of projects in Simple, Fun & Quickly Done, because I love trying different techniques. I'd have a hard time choosing a favorite technique because it depends on what I'm in the mood to sew. It's so much fun to work with different fabrics and try out color combinations in these small projects.


Another four-fat-quarter-friendly project: the Sling Bag.
Whether it's a simple table runner, an easy zipper bag, or a cute home accessory, there are only three things you need to know about the projects in my new book: they are simple, fun, and quickly done!

Look for Atkinson Designs 14″ zippers at your local quilt shop. We have a rainbow of 36 colors and you're sure to find just the one you need.
Visit Terry's website: atkinsondesigns.com
Follow Terry on Facebook and Instagram
---
Terry, thanks for telling us more about your new book! Now, to enter our giveaway, tell us:
When it comes to sewing zippers:
a) I've got it all zipped up: mastered 'em.
b) I'm working on my technique: getting there!
c) I break out in a sweat.

Tell us your answer in the comments and you could win the zipper collection from Atkinson Designs plus a copy of Simple, Fun & Quickly Done! We'll choose a random winner one week from today and let you know by email if you win. Good luck!
Comments are closed for this post.
Thanks to all who entered the drawing! The winner is Mary Anne, who says:
"I'm definitely a 'c.' I've never learned how to put in zippers so usually avoid projects with them. I appreciate the chance to win this book and the zipper collection!"
We'll email you about your prize, Mary Anne—congratulations!
Save
Save
Save
Save
Save
Save
Save
Related Posts