What could be more fun than making quilts? Making quilts with friends—and with quilting superstars Kim Diehl and Jo Morton by your side!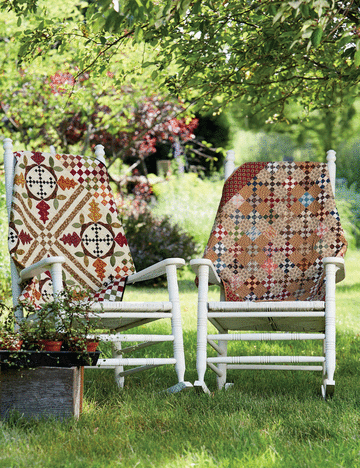 The wait to share this book with you has been almost unbearable for us. We are sooooo excited that today is the day we can reveal the beauty of a very special friendship—and a quiltmaking dream team: Kim and Jo!

Kim and Jo bring together their signature styles in Simple Friendships, a book bursting with exquisite quilts to make with friends. Kim and Jo chose six of their all-time favorite blocks for exchanges; then each designed six quilts using those blocks, plus a sampler quilt that incorporates all six blocks. The results are breathtaking. You'll learn how easy it is to form an exchange group with Kim and Jo's advice. Instructions include options for making an entire quilt solo and making just one block at a time (perfect for exchanges). Friends, guilds, bees, online exchanges, and more—invite everyone to sew along and build lasting friendships while stitching these dazzling quilts!


Basket block: Jo's Berry Baskets quilt is on the left; Kim's Cake in the Cabin quilt is on the right.
We feel so lucky—we got to ask Kim and Jo our burning questions about the book, and their answers are below. Get chummy with these patchwork pals; then check out the a-ma-zing giveaway at the end of this post!
Ladies, welcome back to Stitch This!
---
Stitch This!: How did the two of you get together to write Simple Friendships? Did you know each other as friends before you joined creative forces?
Kim: For years before we met I worshipped Jo from afar (yes, I will happily admit I was a groupie). We were both busy traveling and teaching and it seemed like we were often at the same guilds and events, but never at the same time. Until one day we WERE in the same place at the same time! I remember getting ready for our very first meeting and being so excited that I had to keep chanting to myself, "Act normal, act normal, act normal." Our quiltmaking styles are different but complementary, and after years of dreaming about the idea of a blended book I finally suggested it to Jo. But we were both so busy and lived so many miles apart, we couldn't make it happen. And then Martingale worked some magic!

Jo: About four years ago, Kim and I emailed each other about writing a book. But due to our busy schedules, it wasn't coming together. When Jennifer Keltner joined Martingale, she resurrected the book concept and talked to both of us. She said, "How about friendship quilts?" How does one say no to Jennifer? By then Kim and I had pulled back from our busy teaching schedules, so it turned out to be great timing.


Star block: Liberty Star quilt by Kim
ST!: How did you dream up block and project ideas for Simple Friendships—did you get together and have a block-brainstorming session to bounce ideas off each other?
Kim: During the early planning stages of the book we both happened to be in Houston for Quilt Market. We got together, grabbed some Starbucks, and began tossing ideas around. Right from the start we were on the same page, and everything just fell into place. The hardest thing was having to whittle down our favorite blocks to only six when there are so many that we love. I thought it might come down to arm wrestling or rock, paper, scissors, but with a little give and take we got it handled.
Jo: After our initial coffee chat in Houston, we followed up with lots of emails and a few phone calls. We sent pictures back and forth, asking "What do you think?" and saying, "This is what I'm doing!" The Internet is a wonderful tool, not always a time waster. Kim added her beautiful appliqué skills to her projects. I mostly sew patchwork quilts; I do get diverted from time to time with appliqué, but not on a regular basis like my friend. Kim lives in Idaho, and I live in Nebraska. We're 991 miles apart, so it's hard to meet up for coffee very often. Thank goodness Kim went to Quilt Market!


King's Crown block: Blueberry Buckle quilt by Jo
ST!: There's a section in Simple Friendships containing helpful guidelines for block exchanges. Can you share some of your best tips for starting and maintaining a quilt group?
Kim: Because of my super busy schedule I admit it's been a while since I've been part of a sewing group, but working on this book with Jo brought those memories flooding back and the experience felt very similar. Having a love of quilting is what will bring you together as a group, but establishing and agreeing upon realistic guidelines is what will keep you happy. To me, the single most important aspect of any swap is to clearly define color preferences, especially for scrappy exchanges, because color can be so subjective. And equally important, let the group know of any color you strongly DISLIKE (which we don't usually think to do). If bubblegum pink is going to kill your buzz, speak up!


Ruby Jubilee sampler quilt by Kim
Jo: Thanks to Betsy Chutchian, I was lucky enough to get involved with several "unofficial" block exchanges put on by the 19th-Century Patchwork Divas. I made some good friends. That's how I learned about block exchanges and how they work. One tip I suggest is to appoint a "hostess" for your exchange. A hostess makes sure everyone receives materials lists and instructions for making the block, and she also establishes deadlines. The hostess receives and distributes finished blocks to members. The hostess is of mega importance!


Yankee Puzzle block: Parkersburg quilt by Jo
ST!: Tell us about your favorite block in the book and your favorite quilt (yes, we're going to make you choose!).
Kim: Noooo . . . this is like having to choose a favorite child or pet. But if my arm were to be twisted, I'd admit that the Warm Regards quilt made with the Old Italian block is my favorite (shhh, don't tell the other quilts!). Jo introduced me to this block, and it immediately jumped right to the top of my "love it" list. Each block was an adventure in color and gave me some unexpected surprises, and the appliqué was a blast to stitch. But the very best part? Scads of yo-yos!


Old Italian block: Warm Regards quilt by Kim
Jo: Hmm, that is hard. Favorite quilt block? I always like stars and baskets, and I also love medallions. You're asking a quiltmaking mom to say this is my favorite child/quilt! I think my favorite quilt is whatever quilt I'm currently making. The current quilt has my full attention. I enjoy the process of getting my quilt to where I love it. I don't draw designs on paper and then sew. I sew blocks, play with them on the design wall, and then play with assorted fabrics for the setting and borders until it all comes together.


Star block: Twilight quilt by Jo
---
Thanks for sharing the scoop about your new book, Kim and Jo!
Now, about that gorgeous fabric giveaway. . .
Our friends at Henry Glass & Co. gave us a big, beautiful bundle of Kim's latest line of fabric, called Katie's Cupboard . . .


Head over to the Henry Glass blog for another grand giveaway today!
And our buddies at Moda Fabrics sent us a pretty pack of Jo's latest fabric line, called Reflections . . .

And we get to give them away to you!
For your chance to win one of the bundles PLUS your very own copy of Simple Friendships, tell us:
When it comes to quilt-block exchanges:
a) I'm seasoned—I love quilting with friends.
b) I'm sporadic: I split my quilting time between my friends and me, myself, and I.
c) I'm new to exchanges, but I think I need some "simple friendships" in my life!
Tell us your answer in the comments—we'll choose two random winners one week from today and let you know by email if you win. Good luck! And remember, when you buy Simple Friendships at ShopMartingale.com, you get to instantly download the eBook for free! Yippee!
Comments are closed for this post.
Thanks to all who entered the drawing! The winners are Jane and M.
Jane says, "I'm a new quilter, so I am definitely a 'C.'  I'm a big history buff and have read quite a few historical books mentioning friendship quilts, and, scrappy quilts with blocks made by friends, neighbors and family for a gift.  I'd love to do this!"
M says, "I'm somewhere between sporadic and seasoned. My daughter and I have been quilting together for some time. Our quilting experience began with my aunts getting together with my Mom, and making quilts. They had a wooden frame they used to tie the quilts. After each quilt was made, one of them, would make a note on the frame, the date and who the quilt was for. I have the frame now. My daughter and I used the frame when we first started making quilts. Since then we have advanced to different methods. I hope, one day, my daughter will continue quilting and want the frame."
We'll email you about your prizes, winners—congratulations!
Save
Save
Save
Save
Save
Save
Save
Related Posts